Chyng Cheeun fends off competition with advanced packaging machines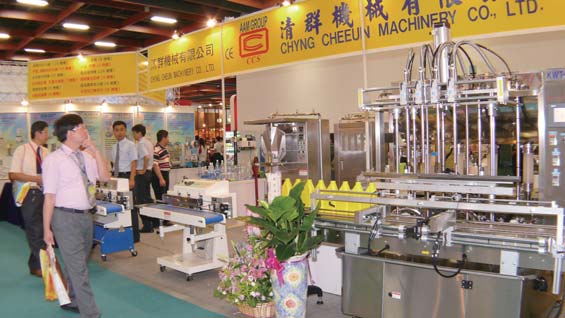 AAM Group – Chyng Cheeun is one of the top three Taiwanese companies in manufacturing continuous sealing machines, and manufacturer of other food machinery such as vacuum packing machines, food mixers, and rice & bean processing machinery.
"Yet the company is facing competition from China in overseas markets", said the company member Sophia Wu at the Taipei International Packaging Industry Show in Taipei World Trade Center. This year is the tenth year that Chyng Cheeun has participated in the Taipei International Packaging Industry Show.
The company exports products to countries across the world, including the United States, Canada, India, Bangladesh, Nigeria, Mauritius and countries in southern Africa. AAM Group -Chyng Cheeun indicated that the United States still remains its most consistent export market, even though the company has received a large number of orders from southern Africa recently.
Twenty years ago, AAM Group – Chyng Cheeun began manufacturing continuous sealing machines and so far we have expanded the range of products to over fifty items. Wu said that the food-packaging machinery industry has been met with difficulties in these days, due to the rise of the price of raw materials. "The price of stainless steel has risen by twenty to thirty percent these past years," she said.
"In addition, the increasing number of food packaging machinery manufacturers has intensified competition within the industry", added Wu.
AAM Group-Chyng Cheeun has invested in research and development of its products to stay competitive. "We have continued to develop new products to meet the demands of our customers such as faster and better-performing machines", said Wu, "But recently, as we've mentioned before, AAM Group-Chyng Cheeun has found itself losing out to lower-price food-packaging machines from China in certain overseas markets. The company has a hard time finding buyers in south-east Asia, where they have been told that they could pay less for China machines."
Wu said that she wouldn't even consider expanding to China. However, she said Taiwanese food-packaging machinery manufacturers possess an advantage over Chinese manufacturers in the quality of machines and service. Moreover, Wu said that the company has received orders from Taiwanese-run factories in China, who prefer the common background that the businesspeople and the AAM Group-Chyng Cheeun share.