CC-1000W Feature
Applicable Products
This CC-1000W is designed and manufactured for weighing and filling powder, powder grit, and grit product, such as medicine, watermelon seed, nut peanut, green bean, animal-feed, detergent, rice, French bread …etc.
3 Steps Product Counting
Provides extremely accurate product weighing control. Accuracy up to ±2grams.
Vibraton Feed Chutr
Designed with two feed chutes(big and small)for efficient product filling operation for great operation convenience.
Two Operation Modes
This machine provides automatic and semi-automatic product filling operations for great operation convenience.
Production Speed
Bag contents weight 50–1000 grams, 8–15 bags per min.
Bag contents weight 1kg–2kg, 5–8 bags per min.
Bag contents weight 2kg–5kg, 2–5 bags per min.
Functions Of Computer Control Panel
Weight is LED displayed
3-step weight setting.
Actual weight is LED displayed.
Zero point setting for error indication.
Auto. zero set reduces repetitive error.
CC-1000S Feature
Same features as CC-1000W but a smaller model.(counting less products)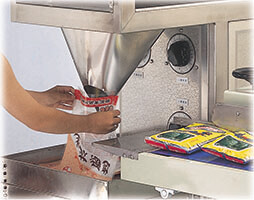 Specification
Model
CC-1000W
CC-1000S
Power
110/220 V, 50/60Hz, 1PH
Power consumption
3A
Filling method
3-steps
2-steps
Accuracy (g)
± 2
± 1
Max volume (g)
3000
1000
Min volume (g)
50
30
Weighing speed
6–15 times/min
6–10 times/min
Machine dimensions(L×W×H,cm)
95×65×210
80×53×148
Packing dimensions(L×W×H,cm)
105×75×220
90×63×158
Net weight (kg)
120
80
Gross weight (kg)
170
120
Video
Demos1-CC-1000S Solid and Liquid Filling Machine+Conbeyor
Demos2:CC-1000W-TB Computer Operated Filling Machine
Demos3:CC-1000S Computer Operated Filling Machine