CC-1000S
Applicable Products
This CC-1000S is designed and manufactured for weighing and filling powder, powder grit, and grit product, such as medicine, watermelon seed, nut peanut, green bean, animal-feed, detergent, rice, French bread …etc.
2 Steps Product Counting
Provides extremely accurate product weighing control. Accuracy up to ±1grams.
Vibraton Feed Chutr
Designed with two feed chutes(big and small)for efficient product filling operation for great operation convenience.
Two Operation Modes
This machine provides automatic and semi-automatic product filling operations for great operation convenience.
Production Speed
Bag contents weight 30–1000 grams, 6–10 bags per min.
Functions Of Computer Control Panel
Weight is LED displayed
3-step weight setting.
Actual weight is LED displayed.
Zero point setting for error indication.
Auto. zero set reduces repetitive error.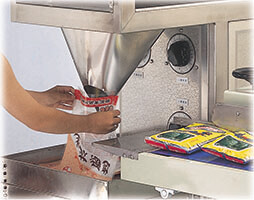 Specification
| | |
| --- | --- |
| Power | 110/220 V, 50/60Hz, 1PH |
| Power consumption | 3A |
| Filling method | 2-steps |
| Accuracy (g) | ± 1 |
| Max volume (g) | 1000 |
| Min volume (g) | 30 |
| Weighing speed | 6–10 times/min |
| Machine dimensions(L×W×H,cm) | 80×53×148 |
| Packing dimensions(L×W×H,cm) | 90×63×158 |
| Net weight (kg) | 80 |
| Gross weight (kg) | 120 |
Video